Experience & Support Local Artists Thursday at

Jupiter Hall
on Thursday, July 11th from 4pm-7pm at Jupiter Hall as we help kick-off this year's
Manchester Trolley Night
! We will host a special pop-up gallery show by the
Manchester Artist Association
– MAA
!
MAA members will exhibit original art in several media plus matted prints and cards available for purchase – support local artists!
ABOUT MANCHESTER ARTISTS ASSOCIATION
For over 51 years, Manchester Artist Association – MAA, a non-profit, non-juried organization, has been dedicated to providing fellowship, education and incentive to artists interested in and engaged in pursuit of any accepted branch of graphic or fine arts.
Free and open to the public, join us at Jupiter Hall where communities experience arts, culture and innovation. For more info, email Katie Bérubé at katie@jupiterhallnh.com.
ABOUT MANCHESTER TROLLEY NIGHTS
Jupiter Hall is proud to be part of Manchester Trolley Nights, an evening of art and cultural discovery, Manchester Trolley Nights happens as a result of the hard work and financial commitment of all participating venues who value and support local arts.
Trolley Night is a FREE and family-friendly event that celebrates arts and culture in the city of Manchester.
Though all of the participating venues are open year-round, on Trolley Night they have special happenings, demonstrations, hands-on activities, and promotions planned specifically for the evening. We are excited to add a chalk art competition and an outdoor arts market this year. Any interested chalk art competitors should reach out to Monica Leap at Studio 550 Art Center.
This year, Trolley Night will take place on one eventful evening, July 11th, 2019 from 4-7PM. On that night, there will be two trolleys circulating to arts and cultural institutions around the city for the duration of the event, beginning at Veteran's Park at 4PM. There are various parking areas around the route.
Guests can hop on or off the Trolley at any venue, but as most venues are close to each other, guests are also welcome to drive, bike or walk between venues. A map and venue special event information can be found on the Trolley Night website: http://manchestertrolley.net
The 2019 Season Venues are the Manchester Artist Association at Jupiter Hall, Queen City Bicycle Collective, Bookery Manchester, SEE Science Center, Manchester City Library, Manchester Community Farmer's Market, Studio Verne Fine Art Fused Glass, Dancing Lion Chocolate, Girls at Work, Antiques on Elm, Roger Francoeur Studios, YMCA of Downtown Manchester, Studio 550 Art Center, and The Currier Museum of Art.
Jump on the Trolley, support the arts, and immerse yourself in Manchester's diverse cultural scene.
ABOUT JUPITER HALL
Jupiter Hall is winner of "Best of Manchester" Best Art Gallery in The Hippo Best of 2019 Readers Picks; and winner of New Hampshire Union Leader's 2018 Reader's Choice Awards – "Best Art Gallery" (Silver).
Jupiter Hall is a community-oriented multi-purpose digital media creative and event space located in Manchester, NH where communities experience arts, culture and innovation. Our mission is to showcase and present exciting opportunities for storytellers, creatives and professionals.
For questions and updates, please contact Katie Bérubé at katie@jupiterhallnh.com or call 603-289-4661.
———————————–
What are my transportation/parking options for getting to and from the event?
Listed below are some areas around Jupiter Hall that are at little or no cost.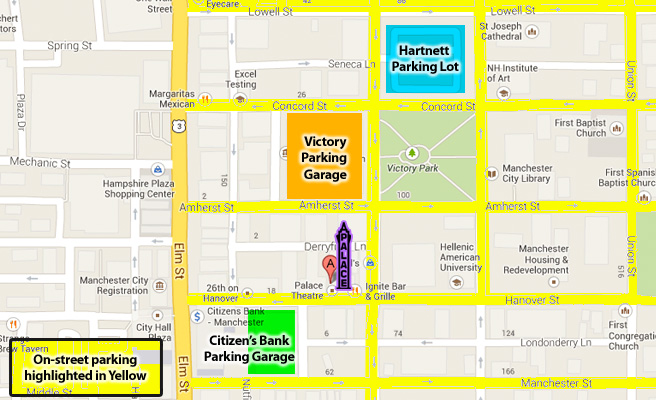 On-Street Parking
On-street parking typically is either $0.75 or $0.50 an hour. Be aware that some on-street parking meters have a two-hour limit. Read meters for specific details and applicable hours.
Citizen's Bank Parking Garage
New rates: 0-2 hours $6 ** 2-4 hours $7 ** 4-10 hours $11 ** 10-12 hours $12 ** 12 hours + $22
Victory Parking Garage
The Victory Parking Garage is city-owned. Parking meters (pay by space) will be installed May, 2017. Procedure for parking:
1.) Find available space/remember your space number.
2.)Walk to street level corner stairwell or front of office location and find pay by space meter.
3.)Follow instructions on meter (coins and credit only no dollar bills) .75 hour / max of $6.00.
4.) Must pay before leaving garage.
Hartnett Parking Lot
The Hartnett Parking Lot is a city-owned lot. The rate is $0.50 per hour Monday thru Friday until 5:30PM. The metered parking is located around the perimeter of the lot. Parking is free after 5:30PM on weekdays and weekends. Only at that time you may park anywhere in the parking lot.
How can I contact the organizer with any questions?
For questions and updates, please contact Katie Bérubé ay Jupiter Hall or call 603-289-4661.
What's the refund policy?
Attendees can receive refunds up to 1 day before your event start date.
Do I have to bring my printed ticket to the event?
No need to bring a printed ticket. Bring your ID, we will check you in via Eventbrite.
Jupiter Hall, MAnchester Trolley Night, Manchester Artist Association, Art show, youth, film, Manchester, NH, concert, live music, listening room, New Hampshire